In an effort to control costs and improve the quality of care, the healthcare industry is turning from a fee-for-service reimbursement model to one that focuses on value. In a value-based care model, high-performing physicians focus on improving patient outcomes through disease management and lowering costs by decreasing the need for emergency department visits and hospitalizations. This model requires:
a relentless focus on quality
collaboration and increased communication amongst providers across a variety of healthcare settings
delivery of the right treatment at the right time

wellness and prevention when they are healthy
integrated specialty care when they are sick
comprehensive care management services for chronic conditions
Physicians are being asked to demonstrate how they are providing high quality care, yet they typically don't have access to the same resources and technology used by hospitals and insurance companies to measure quality care. Moreover, physicians often haven't had a voice when the business of healthcare is discussed.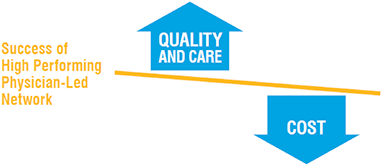 In response to these challenges, a group of independent physicians, in partnership with HCA Virginia, came together in 2012 to establish the first physician-led, clinical integration network in Virginia. Built on a foundation of technology that enables the gathering, sharing and evaluation of quality data across diverse care settings (inpatient, outpatient and ambulatory), VCP brings independent and HCA-employed physicians and providers to the forefront in crafting sustainable, patient-centered solutions that improve patient outcomes while reducing costs. Patients benefit from quality, coordinated, evidence-based healthcare that allows them to better manage their own health in partnership with the network of VCP providers.